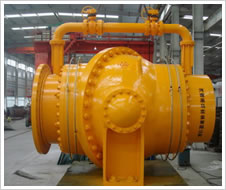 Function
For the hydro-power station with bifurcated pipe, create safe working conditions for the repair or maintenance of Turbine-generator set.
During turbine-generator set stopping, reduce the water leakage and shorten the restart time.
Prevent the expansion of turbine runaway accident.
Emergently shuts off the main inlet valve to cut off water flow upon the turbine-generator malfunction happening, which can prevent accident expansion because the runaway time of turbine generator set exceeds the allowance.
Specification
The main inlet valve mainly includes butterfly valve, ball valve and gate valve.
Butterfly valve has the advantages of small volume, light weight, small open-close force and short small open-close time; but the drawback is too large head loss during fully open, and have some leakage during full close. It is widely used for the hydro power station with middle and low head (200---250m).
The advantages of ball valves are closed tight, less water leakage, small hydraulic loss and small sealing surface wear out; the drawback is large volume and heavy weight, which mainly used for the hydro power station with water inlet pipe diameter below 3M and water head above 250m.
The gate valve has the advantages of small head loss in the fully open and fully closed without leakage; the drawback is larger volume, heavier weight and long time open-close, which usually used for hydro power Station with high water head and pipe diameter below 1.0m.